For those living with an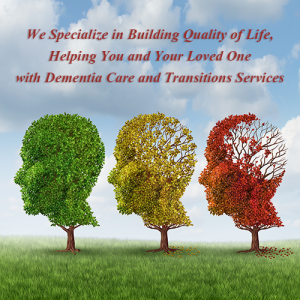 d supporting loved ones and clients with Alzheimer's and other Types of Dementia, the efforts in providing care and resources are considerable and progressive. As is said with our younger population "It Takes a Villiage," and the same could be said for Dementia as well.  Dementia is not just the memory loss that is a problem, but it is the array of possible behaviors and decline that make you cry, laugh, love, argue and along with that are financial constraints, safety needs, and incredible amounts of energy and reserve.
For the Client who has been diagnosed with a type of Dementia, Harbor Transitions approaches these challenges from a comprehensive perspective using Cognitive Behavioral Coaching, Counseling, Consulting and Case Management.  In addition; the Client is regarded as part of a "system" made up of an immediate family, caring acquaintances and community providers with coordination of efforts for all involved being essential to success.  Success?  Success in this situation may look very different from what you have come to know as "Success" in other areas of your life.
Questions:
 What is a Dementia Coach in the consulting and case management role? 
This is a Counselor/Coach with a wide variety of experience, expertise, and resources in effective caregiving practices for people diagnosed with Alzheimer's Disease and other Dementias and one that recognizes and gives considerable attention to the needs of the caregiver. Typical services performed by a dementia coach are as follows:
-Provides an assessment of the person diagnosed to determine current stage of disease
-Defines and set goals for the person with dementia and the caregiver
-Cultivates an environment to maximize the diagnosed person's independence
-Helps families better understand the disease
-Creates strategies to minimize symptoms
-Works to restores a sense of normalcy in the home to the extent possible
-Recommends measures that meet home safety requirements
-Designs a setting to reduce stress, anxiety, and guilt
-Provides support and structure in dealing with the disease
-Develops solutions to on-going, dementia-related problems
-Increases caregiver confidence through education
-Creates teamwork among family members and the caregiver
-Provides objective feedback and guidance
In a nutshell, a dementia coach can help you prepare for the future while living successfully in the moment.
What about the people in the lives of the person diagnosed?
A person diagnosed with Alzheimer's Disease and other forms of Dementia must deal with major life changes. This is also true for the family member, who adopts the role of primary caregiver or support person for others involved in caregiving. In many cases, the caregiver is impacted most by the life changes along with functional and behavior changes and bears the heaviest burden in dealing with the disease. Therefore, to only address quality of life issues for the person with dementia without significant regard for the needs of the caregiver looking at only half of the equation. 
With that said; Individual Counseling and Coaching would be of value for focusing on your needs as well, it is like what they tell you on airplanes, if you want to be able to support other's during turbulent times, you must "Put your mask on first!"
Why have you chosen to focus on those individuals and businesses impacted by Alzheimer's and other Dementia and Memory impaired illnesses?
My first experience with people with Dementia and Memory related conditions was as a Nurses Aid when I was in the 1970s.  During that time, people with Dementia were called "Senile" and there was very little that could be provided for them in care facilities other than keeping them sedated and warehoused until they passed away.  Care Providers like I, had very little knowledge as to how to approach them or care for them.  Dignity was fleeting and Quality of Life was dismal for most of this population.  Physical and Chemical Restraints were a primary tool for keeping patients under control.  Pressure Sores from being restrained and sitting or lying in one position for hours on end were rampant.  Assaults on staff and other patients by agitated and confused patients were common.
During my early nursing career, in the 1980's as an Emergency Room Nurse, I had occasion to care for patients with Dementia, when a patient presented to the Emergency Room for care, they were often there because they had fallen a broken a hip or other extremity, or were there for neglect, self-neglect, abuse or there because they had family members who were exhausted, exasperated and in need of respite and support.  But too often, there was very little help to offer.  If the patient was combative or confused and prone to wandering, they would be sedated and at times placed in restraints.  They might be admitted to the hospital, which often was the only time the family who cared for the patient at home, could get some desperately needed rest.  Unfortunately, the hospital experience and the demented patient's medical condition often lead to worsening of confusion and delirium, more sedating medication and more restraints.
In the 1990's I worked in Home Health and Hospice were I had patients who were experiencing the middle to end stages of Dementia.
After I graduated from my Master's Program in Psychosocial Nursing I worked on a hospital based Dementia Care Unit.   It was here that I recognized the value of having a specialized environment and group of care providers who specialized in treating the Dementia-Memory Care population.  Although patients were on the unit because they had been demonstrating behaviors out in the community that warranted a hospital admission, restraints were rare on our unit.  Instead, the patient's were approached in calm and accepting manner gave them a degree of freedom to roam.  We went to where they were; we went to where their thoughts were telling them they were and we engaged with them in their reality.
We used medications as part of treatment made every effort not to sedate them.  Often the patient's ended up having medical problems that had not been identified yet.  Once those illnesses were identified and treated the behaviors or worsening of behaviors often decreased or subsided.
In 2000 I spent some time as a Nursing Home Surveyor for the State.  I essentially was part of a team who made annual Inspections of Nursing Homes and Investigated Complaints.  I saw a number of facilities that struggled with how to manage patients with Dementia and often found themselves at odds with the demands of this population, and some who used a "Gentle Approach" concept which seemed to provide a calmer environment.  The state had become much more focused on the safety and care of demented patients by then.